Hayley sings on BBC Radio 2 - Weekend Wogan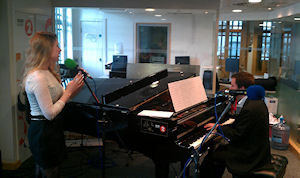 Hayley Westenra appeared on Sir Terry Wogan's popular BBC Radio 2 show "Weekend Wogan" today for an interview and to sing two songs 'live' with piano accompaniment by Tim Evans.
The songs were Gabriel's Oboe (Whispers In A Dream) from her new album Paradiso, and Songbird by Fleetwood Mac, which has a famous cover version by Eva Cassidy. You can listen below to the complete interview and songs, or to the songs separately. Click the photo (from Sir Terry's Yfrog gallery) for bigger.
Weekend Wogan: Hayley's interview and 'live' songs © BBC R2
Weekend Wogan: Hayley sings Gabriel's Oboe (Whispers In A Dream) © BBC R2
Weekend Wogan: Hayley sings Songbird © BBC R2
The original broadcast was on digital satellite in .mp2 format at 192kbps, 48KHz stereo, which I have up-converted to .mp3 format at 320 kbps to maintain the original quality as far as possible. You can join in the discussion about this broadcast here in the HWI forum or add your comments below.
Search all of HWI and the archives
Both the old (archived) website and the current website are searched.
If there are too many results, try enclosing the search phrase with "quotation marks".
If there are not enough results, try removing any quotation marks.
To exclude pages containing unwanted words, prefix those words by a - (minus) sign and no gap.
https://cse.google.com/cse?cx=017298340214157624792:o9prbk6rdbg