Hayley is 'The Voice' of ITV's World Cup coverage (video)
Hayley Westenra's recording of "World In Union" was today played for the first time as ITV's introduction to their coverage of the 2011 Rugby World Cup. As this year's Rugby World Cup theme tune, it will introduce their daily programmes throughout the series, this month and next.
You can download the full version of this song in Maori and English from iTunes and other music stores, or buy it on the official Rugby World Cup album 2011. Our video of the short version of World In Union below is from this morning's initial ITV show of the series - the opening ceremony. Don't forget - you can also buy Hayley's new album Paradiso, which is out now in many Countries and soon, in even more!
World In Union - Hayley Westenra (excerpt)
ITV's 2011 Rugby World Cup series Introduction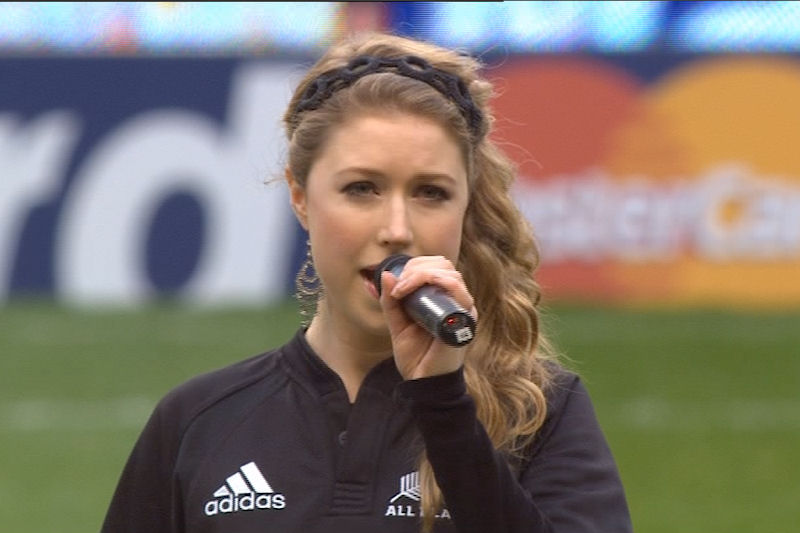 Hayley sings the NZ National Anthem in an All Blacks shirt
Barbarians vs. All Blacks at Twickenham, London: 5 December 2009

Search all of HWI and the archives
Both the old (archived) website and the current website are searched.
If there are too many results, try enclosing the search phrase with "quotation marks".
If there are not enough results, try removing any quotation marks.
To exclude pages containing unwanted words, prefix those words by a - (minus) sign and no gap.
https://cse.google.com/cse?cx=017298340214157624792:o9prbk6rdbg