Southwark Cathedral (Carols) 6 December 2012
More Details:
CAROLS IN THE CITY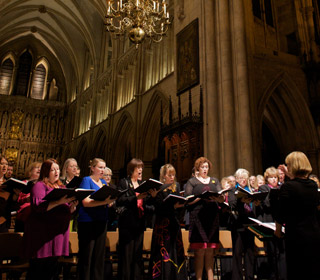 We are pleased to announce that Hayley will be performing at Carols In The City at London's Southwark Cathedral, Montague Close, London SE1 9DA, on Thursday 6th December.
This annual charity event raises funds for Marie Curie Cancer Care and this year will feature well-known carols, Christmas readings by Natascha McElhone and Phil Davis, and two seasonal songs from Hayley.
It will be hosted by Sophie Raworth. Doors will open at 7pm and tickets can be booked by calling the Special Events team on 0207 599 7219.
Details from Bandana Management, Further details are on the Marie Curie Cancer Care website here:
https://www.mariecurie.org.uk/en-gb/even....-the-city-8994/
Tickets are said to be £40, or £55 for the concert and reception afterwards. From the Marie Curie website: "On the night, guests can expect an array of musical acts and celebrity festive readings" - and as mentioned above, Hayley's involvement is limited. Please check the start time when booking tickets, as we note that there is currently a 30 minute discrepancy in the times we have seen.