Hayley and Arnaud are married!
Hayley's Wedding Album above from Woman's Day was added on 20 January: to buy a copy click here.
Hello! magazine in the UK was added on 6 February 2014 (syndicated from Woman's Day): to buy a copy click here.


PCs:

click a thumbnail. Right-click the pop-ups & "View Image" for even larger. Navigate with mouse or left-right arrow keys




Tablets:

best orientation is 'portrait'. If navigation is difficult, close each image (tap outside the image) then select next thumbnail

.
Still having problems? Click/tap a thumbnail title to navigate using the 'classic' gallery method


Many thanks to our forum member Ross for the WD scans
NZ Woman's Day magazine (issue date 13 Jan 2014) have reported that Hayley Westenra and Arnaud Sabard were married "in secret" on Sunday, December 29th 2013. See their front-page below, and view the gallery above (gallery added 20 January). The magazine is now off-sale but back issues may be available at: http://www.magshop.co.nz/Womans-Day-NZ-Back-Issues
While we have not yet had confirmation from Hayley, Arnaud or either family as of 4th January, the editor of the popular New Zealand magazine Woman's Day, Sido Kitchin, is quoted by New Zealand Herald as saying:
"We're delighted to be sharing Hayley and Arnaud's beautiful wedding exclusively in Woman's Day next week. It was a rainy day, but nothing could dampen Hayley's happiness. She looked exquisite."
She also said that next week's issue of the magazine is out on Monday.
When later asked on Facebook about the lack of confirmation from Hayley's father Gerald, following media enquiries, the magazine replied:
"Hi Joseph, thanks for the note. Woman's Day has confirmed that Hayley Westenra's wedding took place last week in North Canterbury and the story will run in our issue on sale on Monday. Hayley's father Gerald was simply trying to protect the magazine exclusive with his comments. Thanks - the team at Woman's Day NZ"
Above: Archive photo: Hayley and Arnaud © Woman's Day
We will update this news as more details are available and meanwhile, you can read the original report in full below, from New Zealand Herald. Here is this week's Woman's Day NZ front page: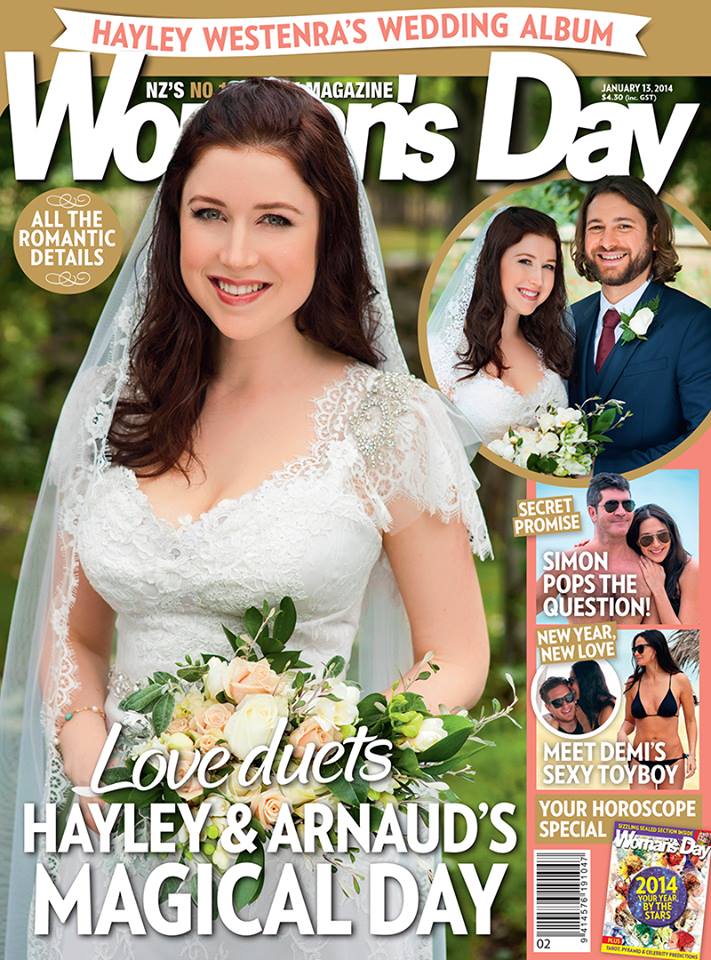 Westenra weds in secret
Kiwi singing star Hayley Westenra has married her French fiance, Arnaud Sabard, in a secret wedding.
About 90 guests were present to witness the wedding in North Canterbury on Sunday.
A source, who spoke on the condition of anonymity as guests had been told to keep the ceremony secret, said Westenra had four bridesmaids, including younger sister Sophie, one of Mr Sabard's sisters and Paige, the daughter of Christchurch singer Elizabeth Braggins.
When contacted by the Herald, Westenra's father, Gerald, was coy, in keeping with the strict confidentiality deals the glossy magazines demand.
But the marriage was confirmed by Woman's Day editor Sido Kitchin, who has signed the couple to an exclusive magazine deal.
When news of the engagement broke last year Mr Westenra said both families were delighted and were looking forward to the wedding.
"We're very excited. [Hayley] didn't want to leave the country until she had that ring," he said.
Westenra is believed to have had her dress made by Christchurch wedding gown designer Louise Anderson.
Kitchin said coverage of the wedding was planned for the next issue of the magazine, out on Monday.
"We're delighted to be sharing Hayley and Arnaud's beautiful wedding exclusively in Woman's Day next week. It was a rainy day, but nothing could dampen Hayley's happiness. She looked exquisite."
Westenra first met Mr Sabard when he was working as a sound engineer on one of her tours.
They have been together for just over three years.
Mr Sabard proposed to Westenra - who soared to fame as a teenager - in early 2013 at Lake Wakatipu near Queenstown while the songstress was on a break from recording in London.
- Staff reporter
Here at HWI we the members and staff are delighted to learn of Hayley's marriage and we wish her and her husband Arnaud the very best for their future together.
To buy back-issues of the two magazines:
Woman's Day back issues are available from here but the Hayley Wedding issue dated 13 January 2014 may have sold out.
Hello! back-issues in electronic and printed formats are available from here. The Hayley Wedding issue (5 page article syndicated from Woman's Day) is Hello! volume 1312 (dated 27 January 2014) - even though it does not mention Hayley on the front cover!
You can comment below, or to discuss this exciting news in our forum please click here!