Concert Review: Kaohsiung Arena 27 October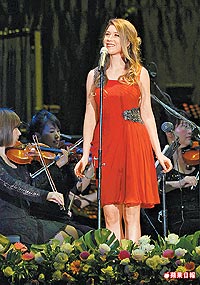 On 27 October in Kaohsiung, Taiwan, Hayley sang in front of what is probably the largest audience in her career for a concert of her own; a near-capacity crowd of around 15,000.

This shows Hayley's remarkable popularity in Taiwan, however, it is often difficult for us to obtain reviews of her concerts there. But this time, we have an excellent review written by Jennifer from Taiwan, a member of the HWI forum.

Jennifer first posted her review in the forum and with her kind permission, we can now publish it in full, here on the HWI website.
Concert Photo: Apple Daily



Concert Review
By Jennifer Chen

Kaohsiung Arena, Taiwan - 27 October 2010

Hi, everyone, I am from Kaohsiung, Taiwan and I could hardly contain my happiness when I discovered this forum less than an hour ago, I am dying to share my thoughts on Hayley's concert on 10/27 in Kaohsiung.


I was an attending volunteer at the World Games 2009 and was truly touched by Hayley's angelic voice; therefore, I bought my tickets as soon as I learned about Hayley's concert in Kaohsiung.

Repertoire

Prayer
Scarborough Fair
Ave Maria
Hana
Intermezzo from "Cavalleria Rusticana" (Mascagni) – orchestra
Never Say Goodbye
Amazing Grace
Santa Lucia
Danny Boy
May It Be

---intermission---

Intermezzo from "Carmen" (Bizet) – orchestra
Flowers In The Rainy Night
Lascia Ch'io Pianga
River Of Dreams
Pokarekare Ana
Music of The Night from the Phantom of the Opera (Yang Zon Wei)
The Moon Represents My Heart (Hayley and Yang Zon Wei)
My Heart Belongs To You
A Thousand Winds
Hine E Hine

---encore---

Nada Sou Sou
River

The Concert was attended by 15,000 spectators and I must note that such a huge attendance for the concert of a foreign artist is very rare in Kaohsiung so you can see how much Hayley is adored by Kaohsiung citizens after her performance last year during the World Games.

As Hayley slowly walked to the center of the stage singing the first verse of Prayer without the orchestra playing, my mom and I knew that we were to enjoy a wonderful night. She was not only looking gorgeous in a red dress but also sounding amazing. Listening to her live literally gave me goose bumps.


Her performances of Scarborough Fair, Danny Boy and May It Be were even better than the ones from Celtic Woman DVD. Her trademark song, Amazing Grace, was as touching as ever; I think this song is to her like Time to Say Goodbye to Andrea Bocelli or You Raise Me Up to Josh Groban; I really can't find a better version. As for Hana, I certainly enjoy Hayley's singing but I wish that she would sing it in Japanese for the Japanese lyrics fit the melody more. The two Italian songs were nicely sung as well; I especially enjoyed Hayley's playfulness in Santa Lucia.

After the 20-minute intermission came the song that everyone was anticipating, Flowers In The Rainy Night, the most famous Taiwanese song about the emotions of a woman being wrongly treated by fate. Hayley was looking rather nervous before singing the song but she did a fantastic job. I could hear her pronunciation clearly and she bestowed a sense of softness to this song. She was awarded with thunderous applause. Everyone in attendance were truly touched by her sincerity. She said that she hoped to sing this song in concerts elsewhere around the world.

Pokarekare Ana is one of my favorite songs from Hayley and is also the song that was chosen in commercials promoting the concert. She sang the first verse solo and I was truly amazed by the fact that she sounded so much better than CD recording. The Moon Represents My Heart was the song that touched so many of us last year and I was overjoyed to be able to listen to it again live. This time out, she has a better duet partner and I could hear more nuance and softness in the phrasing. She also sang the part of the lyrics that she didn't sing last year. I think the new duet partner, Mr. Yang, complemented Hayley nicely, making the duet more harmonious.

People were clapping nonstop and shouting for encores at the end of the concert. Hayley granted us two great songs, Nada Sou Sou and River. I was especially impressed by River for she sang it while playing the piano all by herself. The simplicity of piano accompaniment accentuated the purity of her voice. One of my my friends who was also in attendance said that Hayley was like an angel from above and I must concur with that sentiment.

Thank you, Hayley, for giving us such a wonderful evening of beautiful songs. Your voice reminds us of all things kind and benevolent in this world.

Jennifer Chen
Taiwan
31 October 2010


The original concert details, updated with larger photos can be found here in our Events pages.

Don't miss the brilliant sets of photos of this event and the tour in general, posted by Jillian (and others) starting on this page in the HWI forum.

Many thanks to Jennifer, who first posted her review in the forum here.