Earthquake Disaster in Christchurch New Zealand
Our thoughts and prayers go out to everyone affected by the terrible earthquake
that has occurred in Christchurch New Zealand, with a serious loss of life.

This is Hayley's home town, however, we do now know from Hayley's recent Twitter message that her own family are all safe.

You can watch an 8 minute interview on Sky News with Hayley about this earthquake here on the HWI Youtube channel. See below for a 3 minute interview with Hayley on ITV's Daybreak.

The following report is from NZ Herald:


Christchurch quake: Toll expected to rise from 'NZ's darkest day'

Darkness, rain and temperatures are falling on Christchurch with people still trapped in buildings crumpled by a massive earthquake, waiting on search and rescue teams to get them out alive.
Rescuers will work throughout the night in miserable weather looking for survivors following a 6.3 earthquake which claimed at least 65 lives, Civil Defence director John Hamilton said.
Emergency services were focussing on high rise buildings in the central business district, many of which were extensively damaged, police said.
Prime Minister John Key announced tonight that "at least 65 people have lost their lives" and noted the rescuers were still scrabbling through the ruins of collapsed buildings looking for injured and trapped survivors - and bodies.
The death toll is already the second highest in a New Zealand earthquake - out ranked only by the 286 people who died in the violent 7.9 1931 Hawke's Bay quake, whose 70th anniversary was marked earlier this month.

Full NZ Herald story is here

NZ Herald Photos here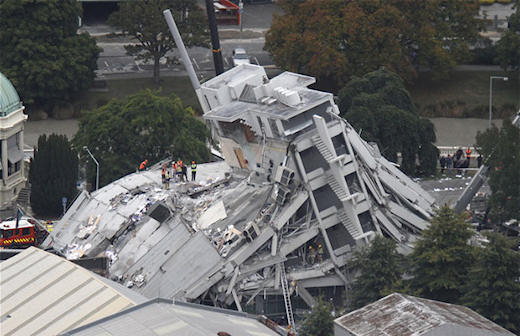 Hayley Westenra Interview on ITV's Daybreak - 23 February 2011