Nights on Broadway UK tour - October 2013
Ticket sites and Hayley by twitter have today confirmed that unfortunately, Nights on Broadway has been cancelled. Here is Hayley's tweet:
Hey guys. I know... Really disappointing to hear that Nights On Broadway has been cancelled :( But, there's always a silver lining, right? X
We await any further developments. For the record, the original news report is below.
---
TOUR NOW CANCELLED - ORIGINAL DETALS ARE BELOW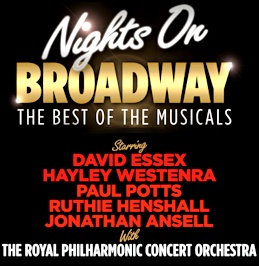 Hayley Westenra today tweeted to confirm her participation as one of the guest artists in the UK "Nights On Broadway" arena tour in October 2013. Dates and more information is given below, as posted on Stereoboard.com, the link given by Hayley.
UPDATE - THE OFFICIAL TOUR WEBSITE IS:
http://www.nightsonbroadway.co.uk/show-info.html
WITH PRE-SALES TICKET LINKS 24 APRIL
PRESALE TICKETS ANNOUNCEMENT (from Bandana Management):
NIGHTS ON BROADWAY – O2 ARENA PRESALE
Please note that the presale for tickets for Nights On Broadway at London's O2 Arena will not now show up on the venue website until tomorrow [Thursday]. However, presale tickets for the London show can be purchased [now] via the Ticketmaster presale link on the Nights On Broadway website: http://www.nightsonbroadway.co.uk/show-info.html
David Essex Announces 'Nights On Broadway' October UK Arena Tour
OBE-awarded actor and pop-rock singer, David Essex has announced dates for his 'Nights On Broadway' UK arena tour.
David Essex began his career in the 70s and has since released numerous hits such as 'Rock On', 'Gonna Make You a Star', 'Stardust', 'Rolling Stone', 'Hold Me Close' and many more.
This new 'Nights On Broadway' tour will feature David performing songs from musical theatre with a cast of Ruthie Henshall, Hayley Westenra, Paul Potts, Jonathan Ansell and the Royal Philharmonic Concert Orchestra.
David Essex UK Tour Dates are as follows:
Sat October 19th 2013 - Motorpoint Arena, Cardiff
Sun October 20th 2013 - Centre, Brighton
Wed October 23rd 2013 - O2 Arena, London
Thu October 24th 2013 - Echo Arena, Liverpool
Fri October 25th 2013 - Metro Radio Arena, Newcastle upon Tyne
Sat October 26th 2013 - LG Arena, Birmingham
Sun October 27th 2013 - Arena, Manchester
Mon October 28th 2013 - The Hydro, Glasgow
David Essex Tickets are on sale from 9am on Friday 26th April.
Source: http://www.stereoboard.com/content/view/178520/9#ixzz2QqqdWBPm
See the Events List on this website for ticket details of each venue, including the pre-sale on 24 and 25 April.
For the latest information on this tour, click here for the HWI Forum